Darren Marcy
Editor
Bio

Darren Marcy, a journalist since 1992, is the editor of the Manchester Journal. A New Mexico native, he previously worked for newspapers in the Land of Enchantment before moving to Vermont in 2004. He joined the Journal in October 2018.
MANCHESTER — A Manchester man has been charged with stalking after a woman found a GPS device attached to her vehicle, according to Vermont St…
ARLINGTON — The Arlington Select Board expressed support for a plan to conserve 2,738 acres in Arlington but fell short of signing a letter of…
MANCHESTER — The Manchester Select Board rounded up its public hearing process Tuesday, ending a lengthy public comment period on the town's p…
WEST PAWLET — The Vermont Supreme Court affirmed a lower court's decision to issue a protective order against Daniel Banyai, who owns the Slat…
WINHALL — Dawn Santos has been a fixture at the Winhall Memorial Library for more than five years.
DANBY — A Mount Tabor man is dead following a single-vehicle rollover on Danby Pawlet Road on Sunday.
LONDONDERRY — The Vermont State Police have arrested a Londonderry man on drug charges in connection with a four-year-old death investigation.
MANCHESTER — The Manchester Music Festival is kicking off its season this weekend for five-weeks of classical music that blends familiar favor…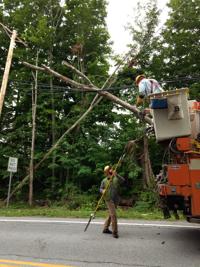 201458935_1539142859763767_856841897387523109_n.jpg
Green Mountain Power workers prepare to remove a tree from wires and make repairs Saturday on Route 7A in Manchester.
205141407_297004081840790_4392997761108630004_n.png
A small fire burns where a live wire lies Saturday on Route 7A in Manchester. The wet grass and brush prevented the fire from spreading.
View all