Bennington County has its fair share of athletes who have risen through the ranks at Mount Anthony, Burr and Burton, Arlington, Long Trail and Stratton Mountain. The same can be said about nearby New York schools Hoosick Falls and Cambridge.
Some are lucky enough to extend their athletic careers beyond high school. Here is a list of some local athletes who have been in competition this school year at the next level.
Hannah Pinkus (BBA)
The former Bulldog had a stellar four-year career with the Division I Colgate women's soccer team. Pinkus appeared in 60 games, including 54 starts.
She was recently named the 2021 Patriot League Midfielder of the Year after totaling 16 points (six goals, four assists) good for third overall in the conference.
The Manchester native recorded a point in 10 games this season, including six multi-point games.
She also received Patriot League first team honors for the second consecutive year.
As a sophomore, Pinkus was named to the Patriot League second team.
Pinkus scored 11 goals in her four years with the Raiders, including multiple game-winners. She also tallied four assists.
Grace Pinkus (BBA)
Hannah's younger sister, Grace, scored the game-winner in the 2016 Division I state championship game, giving BBA the state title. She went on to become the program's all-time leader in goals scored and was named the Vermont Gatorade Player of the Year during her senior season with the Bulldogs.
Pinkus has continued her athletic career at Division I University of Massachusetts Amherst, where she recently wrapped up her sophomore season.
In total, Pinkus has appeared in 18 games for the Minutemen, starting in four. She has registered three shots on goal and has one assist so far in her college career.
Julia Dapron (BBA)
The three-time Division I state champion in high school, Dapron continues to impress, now as a junior with the Stonehill College women's golf team.
The Dorset native returned to her hometown course with Stonehill on Oct. 3-4 at Dorset Field Club, where she finished tied for 14th overall shooting a two-day score of 167.
During the spring, Dapron became the first Stonehill women's golfer to be named to the All-Northeast-10 Conference first team in program history. Dapron held the individual lead at the NE10 Championships after day one of the tournament, ultimately finishing second overall.
Ashlee Billert (MAU)
Billert wrapped up her collegiate athletic career with the Russell Sage College women's field hockey team this fall.
Billert etched her name in the school's record book, becoming the program's all time leader in games played (50).
What makes the feat even more impressive is the fact that her junior season was canceled due to COVID-19.
During her senior campaign this fall, she was named as the Empire 8 Conference Defensive Player of the Week for the week of Oct. 25
The defender also scored a pair of goals this season, including the game winning goal versus Keuka on Oct. 23.
Billert ends her time with the Gators as the all-time leader in defensive saves (17).
Georgia Lord (BBA)
Lord played for Williams College women's soccer, appearing in 61 contests in her four years, scoring seven goals and adding five assists.
Tess Benlap (Arlington)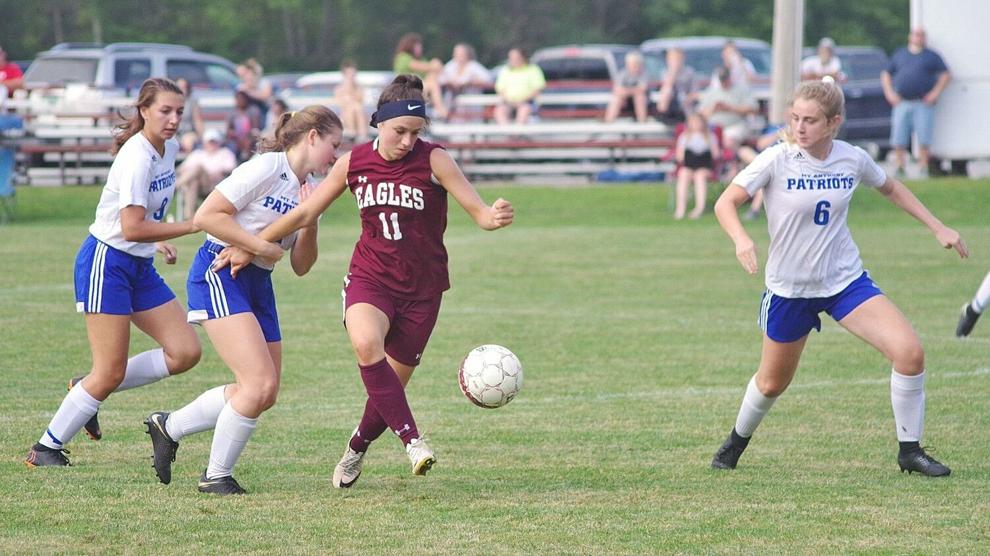 A teammate of Lord's, Benlap just completed her junior season at Williams College. The former Eagle appeared in 15 games in 2021, starting six and registering 10 total shots.
Lillian Hickey (Hoosick Falls)
The University at Albany field hockey junior appeared in 15 games in 2021. During her freshman year in 2019, Hickey appeared in all 19 games, scoring three goals and adding an assist.
Evan Page (MAU)
A cross country runner at Gordon College, Page had a pair of top 10 finishes this fall, including second overall during the POP CROWELL INVITATIONAL in 2021.
Ryan Rogge (MAU)
Rogge appeared in three games for the Saint Michael's men's soccer team in 2021.
Sam Wilkins (MAU)
Wrestling in the 184 pound class at Castleton, Wilkins has a pair of fourth place finishes early in the season.
Keegan Coon (MAU)
Also wrestling at Castleton, Coon is competing in the 149 pound division.
Jordan Mattison (MAU)
Mattison appeared in 14 Castleton women's soccer games this fall, starting three. She tallied two goals.
Kaiden Gauthier (MAU)
Gauthier played in 12 games for Castleton women's soccer in 2021, including a start on Oct. 19. The junior scored a total of three goals.
Jack Ware (MAU)
Ware completed his freshman year as a running back for Mount Marty University. No stats were available.
Gavin Johnson (MAU)
Johnson was redshirted for his freshman campaign as a wide receiver with Assumption College.
Katie Berger (Arlington)
Berger is one of the few on this list that is competing in a completely different sport than she played in high school. At Arlington, she was a standout in soccer, basketball and track and field. Now a senior at University of New England, Berger is a member of the Nor'Easters women's rugby team, who compete for a NCAA DIII championship on Sunday.
Miranda Seacord (Cambridge)
A member of the Dean College women's soccer team, Seacord finished her senior season with two goals while starting 15 games. She was named the team's MVP in 2018, and also was named to the New England Collegiate Conference (NECC) Second-Team All-Conference in 2019 and was an honorable mention All-American that season.
Grace Snyder (Cambridge)
Snyder appeared in 10 games for the Union College women's soccer team in 2021, and was inserted into the starting lineup twice during her senior season.
Nathan Genevick (Cambridge)
A redshirt freshman offensive lineman on the University at Albany football team.
Lilly Phillips (Cambridge)
After a stellar high school career, Phillips has quickly inserted herself as the starting point guard for the University at Albany women's basketball team.
Phillips has started both games so far during her freshman year, averaging 19 minutes per game. She has scored seven points and added four rebounds, four assists and two steals as Albany starts the season 1-1.
Sophie Phillips (Cambridge)
Lilly's twin sister Sophie also just started her college basketball career this month. Sophie has appeared in all three games for Rhode Island thus far, totaling eight points, one assist and one steal over 13 minutes of playing time.
Fiona Mooney (Cambridge)
Mooney is a freshman member of the Stanford University women's rowing team.
Ruthie Nolan (Cambridge)
Nolan is a starter as a freshman for the Clarkson University women's basketball team. Nolan has 11 points, 15 rebounds, four steals and two assists through three games.
Angela Gonzalez (Hoosick Falls)
A member of Sage College women's soccer team, Gonzalez appeared in 16 games in 2021, starting 11 and tallying one assist.
Garren Aberth (BBA)
Aberth appeared in one game for Northland College men's soccer in 2021, making six saves at keeper in a 4-3 loss.
Aisha Navarrete (Long Trail/BBA)
Member of Saint Michael's College women's soccer team. Did not appear in a game in 2021.
Jay McCoy (BBA)
A starting defensive back at Hobart College, McCoy made 33 total tackles and registered two pass break-ups during his senior season. McCoy's career stats include 84 total tackles and four interceptions.
Joey McCoy (BBA)
Younger brother Joey is also a member of the Hobart football team. During his first year on the gridiron, Joey made eight tackles and had one interception as a defensive back.
Ben Stewart (BBA)
Made 14 starts in 17 games during his senior year with the Castleton men's soccer team in 2021. Stewart scored twice and added four assists this fall.
Mack Walton (Green Mountain)
A member of the Clarkson men's soccer team, Walton started all 16 games he appeared in during the 2021 season, adding two goals and an assist. Walton played for Black Rock FC, who plays at Applejack Stadium, this summer.
If you know of an athlete with local ties who is now competing at the college level, please email us at sports@benningtonbanner.com for recognition.