A variety of events are planned throughout the Northshire and mountain communities for this Halloween.
The Haunted House on Highland Avenue is moving outdoors this year to be COVID safe. Check out the Haunted Trail at 455 Highland Ave. for ghosts, goblins, witches, zombies, and ghouls to guide you on the way to safe treats. Masks a must.
The Southern Vermont Art Center will host its annual Halloween on the Hill this Saturday from 2 to 5 p.m. in Manchester.
The event, mostly outdoors, will have a short magic show with Tom Joyce at 2:30 p.m., 3 p.m., 4 p.m. and 4:30. Other activities include a carved pumpkin judging, a costume parade with prizes, along with Musical Story Time with the Taconic Strings, three performances throughout the event.
Kids will get a personal bag of trick or treat goodies, with pickup starting at 4 p.m.
Registration is required for all events and some events are full, but there are waitlists.
For more information or to register visit the SVAC website.
The town of Arlington has a couple of Halloween events on Saturday. The Arlington Lions Club Haunted Happenings is open for socially distanced free public visits at the Arlington Rec Park until Saturday.
The Lions Club will be handing out trick or treat goodie bags and collecting non-perishable food items for the Arlington foodshelf from 4 to 7 p.m.
For more information, check out the Facebook page.
For people living in Arlington, Sunderland and Sandgate, a trick-or-treating map has been put together. On Google Maps, people who are participating are listed and people in those communities who want to join are asked to contact Samantha Hill or Ashley Illinski to add your address.
Road names without numbers mean the entire neighborhood is participating.
A map is available online.
Dorset village and East Dorset village will be having drive-by Halloween from 5 p.m. to 7 p.m. on Saturday. There are marked locations in each village that will be the main "stops" and homeowners that want to participate will have to set up a table with separated pre-packaged candy.
Trick or treaters will have to remain in their car and socially distance with masks while staying with their family group when visiting a stop on the route. All stops will have pre-packaged candy and will be equipped with hand sanitizer and cleaning supplies. We assume traffic will be a bit slow on the routes so residents should plan accordingly during the allotted time.
The route will begin at the Dorset Playhouse on Cheney Road. Scary characters and candy are waiting at the Playhouse.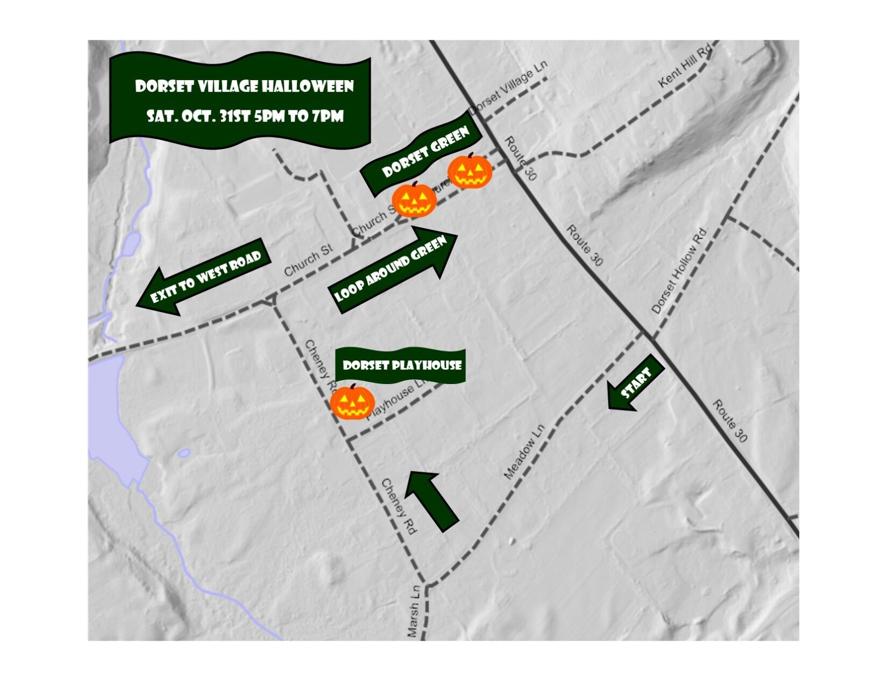 Following Cheney Road, turn right on Church Street and head to the Haunted Library then follow the map to The Dorset Store, Three Pears Gallery, and Dorset Field Club as you pass ghosts, witches and goblins on the Dorset Green.
Volunteers from the Dorset Village Library, Dorset Players and The Wilson House will be helping to make the event a successful one.
In Manchester, the town is planning to host its regular trick-or treating, but with some precautions against COVID-19.
According to the town, they are asking people to stay closer to home, avoid larger crowds and busy locations and stay away from homes that has its lights turned off.
Trick-or-treaters and people handing out candy are asked to wear a mask and to make a cloth mask part of the costume.
For people planning to hand out treats, avoid direct contact and give out treats outdoors, if it's possible.
Conversely, consider setting up a station with individually bagged treats for kids to take.
For more information visit the CDC Website.